Acadia maintains or has access to three field stations.

1.Bon Portage Island (off southwest coast of NS);
2.Morton Field Station - (south coast of NS)
3.Beaubassin Field Station (inner Bay of Fundy, Aulac NB), on 1000 acres of coastal lands. This field station was recently established by partners Ducks Unlimited Canada and Irving Oil Ltd. Research currently underway at the site includes a major salt marsh restoration project.The station has research laboratory space and dormitory facilities.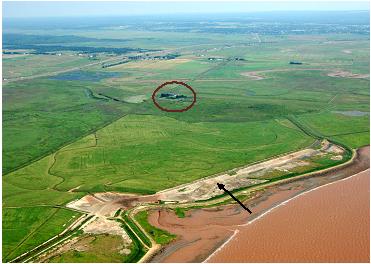 Field Station (circled) and marsh restoration research site (arrow)